Eken Morris Dancers was formed in Stockholm 1979. The formation was a result of a growing interest in English folk music in the 1970's. Today Eken Morris Dancers have a side of about 15 dancers/musicians. Our musicians play melodeon, concertina and fiddle.
The basic repertoire and dance technique was taught to us by English morris dancers who have visited us in Stockholm. We do morris dances from Southern Midlands, "Cotswold Morris", mainly from villages of Bampton, Adderbury, Oddington, Bledington and Headington in Oxfordshire. Eken Morris Dancers is a mixed side using costumes of the traditional men's morris style: white shirt, white trousers, baldricks and ribbons with colours of green, red and yellow. A black hat and bell-pads on the legs and the outfit is complete. Our animal is "Mooses", a Swedish moose, a favourite among children.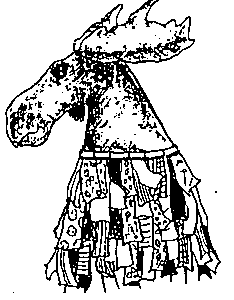 Why then, Swedes as we are, concentrate on morris dancing? Partly because we are fascinated by the mysterial elements of the dances, of show and of dressing up. Partly because we are inspired by the connection between old pagan rituals and the modern society. We also like the feeling of participating in a living tradition which stems from a country that we all are interested in.
Almost every year we meet up with our Finnish friends, Helsinki Morrisers, for an Artic Ale either in Stockholm or in Helsinki. English Morris sides have also visited Stockholm – the latest visit was from Coventry Morris Men.
Eken Morris Dancers have toured England several times. First time was in 1986 when we danced with Albion Morris Men, Long Man Morris, Bourne River Morris Men, Bourne Bumpers, England's Glory Ladies Morris and Pebworth Morris Men. More recently – 2015 – we danced with several teams in the Cotswolds and finished at the English Country Music Weekend in Bampton.
September 2019 we celebrated 40 years of dancing with a tour of the Cotswolds and during one week we met up with many of the teams we have danced with over the years – England's Glory Ladies Morris, Sarum Morris, Pebworth Morris Men, Sharp and Blunt, Adderbury Village Morris Men, Gloucestershire Morris Men, Eynsham Morris and finally Headington Quarry Morris. Lots of nice dancing spots (= pubs) and great company.
In the beginning of June each year we have our annual Day of Dance when we dance in the centre of Stockholm and finish in the Old Town/Gamla Stan. During the summer season you can also find us dancing outside pubs in Stockholm.
Why not join a great English tradition of dressing in odd clothes and making a spectacle of yourself, with intricate footwork and stick-tapping to sprightly music? Exercise, fun and beer – what's not to like?
By the way, if you wonder about our name, Eken means "oak tree" which is an old nickname for Stockholm.
May 19, 2005 – photo by Henrik Levkowitz.
Here is a link to our dances.